Introducing Dr. Stephen Chittenden
I believe that all along I was destined to be a Chiropractor.
As a child, I was a continual source of worry for my parents. You know the saying "what comes up, must come down"? I was a poster child for that saying!
I sustained several injuries during my youth, the worst of which was when I dove into water that was too shallow. Fortunately, I survived. Unfortunately I was only treated with traditional medical care. I recovered, but continued to suffer with some stiffness and pain. Like my neck was "locked up". Finally, after several years, I went to a Chiropractor. Finally my neck was not "locked up!" And along with improving my mobility, it confirmed my decision to become a Chiropractor.
I received my Doctorate in Chiropractic in 1986 from Western States Chiropractic College in Portland, Oregon. And no, it is not connected to the facility of a similar name in Steilacoom, Washington! My educational experience was phenomenal! Because the time I spent in class ranged from 35 to 38 hours per week, it was really a full-time job, which helped me prepare for my future work.
Through school, I developed a network of friends and colleagues with whom I still remain in contact. They remain a source of inspiration, education and motivation as we continue to exchange experiences in our lives and practices.
As a Chiropractor, my focus is to help people in my community realize their health goals. I believe that no matter what condition someone comes in with, a step towards better health is made as soon as you enter the office.
Each person that enters the practice has the potential for better health. Whether you have been in an automobile accident, sustained a work injury, experience acute or chronic pain, or want to enhance an already healthy lifestyle, we are here to help you.
Health, or lack of it, is a choice we all make every day. Each of us either does things to promote health or impair health. Because you have made the decision to make a positive change in your life, I want to help you facilitate that to the best of my abilities.
We practice Chiropractic to promote restored function, reduce pain, increase strength and help you understand the values of a healthy lifestyle.
Dr. Sweet and I, our families and office staff are adjusted regularly as part of a healthy lifestyle. Patients that have chosen to include Chiropractic care as an ongoing part of their lifestyle have reported less incidence of illness, quicker recovery from stress or injury, and the ability to enjoy a more active life.
The bottom line is that if we can help you enjoy better health, then you will be in a position to help someone else with your own gifts and talents.
As an "Air Force Brat", I spent time as a child in both California and Japan before my dad retired in 1969 in Lakewood. I graduated from Clover Park High School in 1979. I met my wife Susan in 1984 in Portland while at Chiropractic College, and worked in the Portland area after graduation.
In 1989 I decided to make my dream of practicing in my hometown a reality, and chose to start a clinic in Lakewood. Our first office was at the old Lakewood Mall. In 1995 we moved to our current location.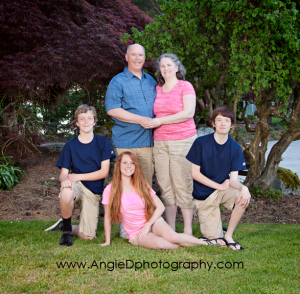 We have three children — Alexis, Matthew and Andrew. Along with my wife, we enjoy various activities — Mariners and Rainiers games, being part of the kids' sports activities, travelling and spending time at our cabin on Harstene Island.
My wife cheerfully calls me a "fishaholic". And I am proud to admit it's true! I love to fish and every chance I get you will find me with a fishing pole in my hand on a river, lake or the Puget Sound looking for that prize salmon, trout or steelhead. I enjoy fishing so much that it doesn't really matter if I catch anything or not!
I have recently realized a dream of mine to coach youth sports.  I, along with a good friend of mine, coach lacrosse to third and forth graders. Lacrosse is an awesome game and this age group is a "riot" to coach.
Now that you know more about me I would love to learn more about you! Please call our office or click on the 'e-mail us' button at the top of every page. We would be happy to reserve a time for you to come in and start on the path to better health! Thanks!
Call today to schedule your appointment.
---